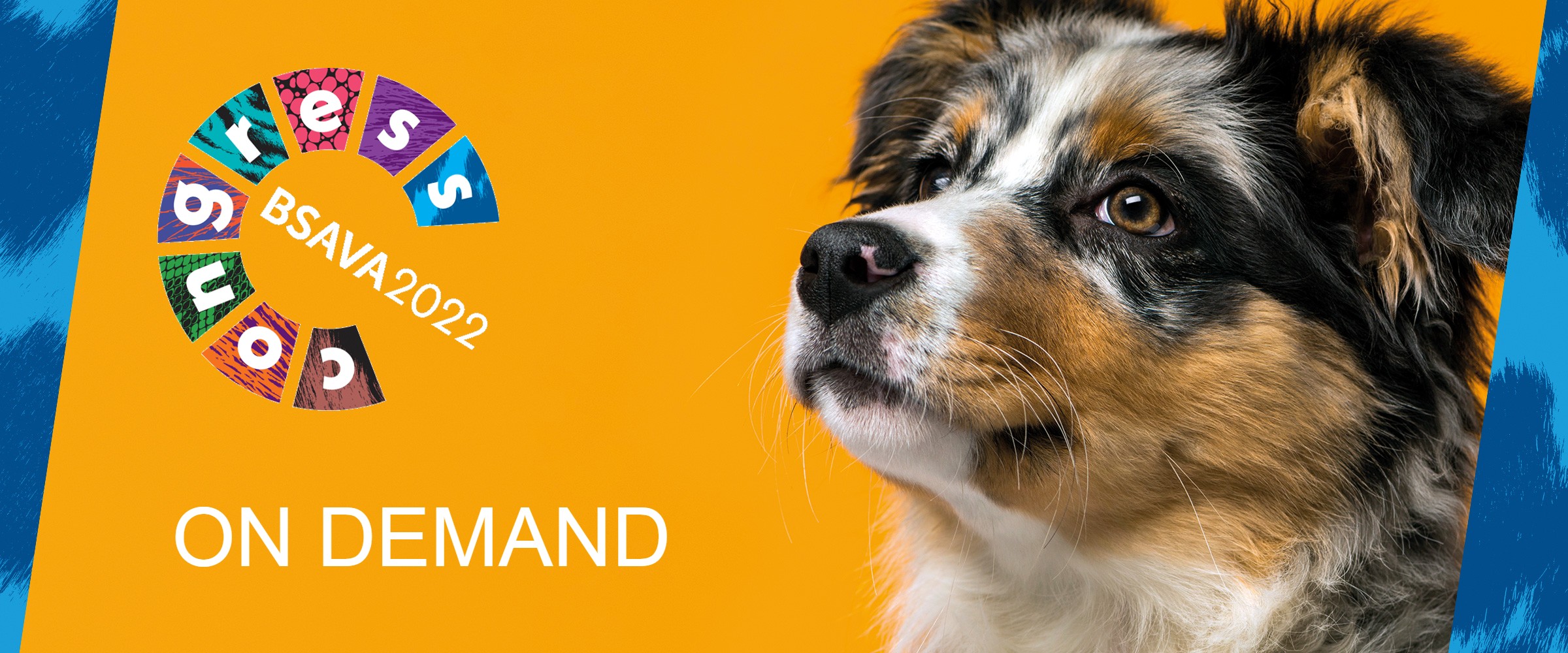 We are excited to keep the Congress momentum going on our virtual platform...
With our live content now available to stream on-demand!

Did you miss our live event 24-26 March? Or have lectures you want to catch up on? After a fantastic return to face to face learning, our virtual platform remains open and is stocked full of live session recordings and on-demand content!

The virtual platform is open to all of our delegates, whether you attended in person in Manchester or joined us virtually. And if you were unable to attend the first time around, passes for on-demand access are available to new registrants.

The virtual platform will be open until 27th May, and then content will be moved to the BSAVA Library.

ON DEMAND REGISTRATION

ON DEMAND ACCESS
Ticket includes:
Registered Attendees If you attended either the live or virtual Congress event (24-26 March) you will already have access to the virtual platform and will not need to re-register! Just head back over to the virtual platform and login! See our Virtual Platform page if you need help logging in!
Non-Attendees / New Access For those who did not attend/pre-register you can purchase an On Demand Access pass - once purchased, the team will be in touch to let you know when you have been added to the platform and can start to view the content.
Please note, that for on-demand delegate bookings submitted after 26th March, there will be a short delay in accessing the platform. This is whilst the Congress Team manually import your booking to the event platform. We aim to have your account on the platform activated within 24 hours of booking - the Team will be uploading all new bookings during working hours Monday to Friday (excl. bank holidays). If you have booked outside of these hours, your account will be added to the platform the next working day. We will email all new delegates to let them know when they are able to access the platform, and send details of how to login. If you have any queries, please contact the Congress Team by email: congress@bsava.com

WHAT'S INCLUDED
With On Demand access to the virtual platform, you can:
Watch recordings of the live programme - lectures, debates and interactive sessions were live streamed from the lecture halls to the platform. You can now playback the recordings! Take a look at the Programme to check which Stream the sessions are in. Please note, the practical's and Day in Life of dramas were not recorded.
View supplementary video presentations and lectures from our speakers and exhibitors, that were exclusively available on the platform
Browse the exhibition hall, the chat rooms may be closed but you can still access the resources uploaded by our exhibitors and leave a message for the rep (if enabled)
Visit the Wellbeing booth to watch tutorials and classes. See the Wellbeing at Congress page to find out more about the on demand classes available
visit the clinical abstract poster hall to view submissions from our 2022 candidates

WHO CAN ATTEND
For general practice vets and nurses, Congress 2022 offers an immersive experience designed to support the skills required in first opinion practice! Although some sessions will be more aligned to nurses, all sessions will be open to all professions. Congress 2022 welcomes:
Primary Care Veterinary Surgeons
Advanced Veterinary Practitioners
Registered Veterinary Nurses
Practice Managers & Owners
ON DEMAND PRICES
| | |
| --- | --- |
| Member Vet | £223 + VAT |
| FECAVA & BEVA Members | £223 + VAT |
| Member Nurse | £116 + VAT |
| Member Student | £116 + VAT |
| Non-Member Vet | £249 + VAT |
| Non-Member Nurse | £158 + VAT |
| Non-Member Practice Manager/Non-Vets | £158 + VAT |


WELLNESS & WELLBEING BOOTH
You can still visit the wellbeing booth in the virtual exhibition to view some fantastic video content;
Flower Arranging with Blooming Elle
With this short on-demand video tutorial, find out how you can dress up your typical supermarket flowers using foliage from your garden!
Bake a Manchester Tart with Rosie Brandweth-Poynter
A step by step tutorial of how to bake a Manchester Tart, with 2019 semi-finalist of the Great British Bake Off and finalist of the Great Christmas Bake Off 2020, Rosie Brandreth-Poynter.
Yoga, Meditation and Breathwork
9 different yoga sessions brought to you by Olivia Haskey from "Yogacrohnie". Expect energising morning sessions, desk Yoga, meditation and breathwork classes, and calm resting evening sessions.

Frequently Asked Questions